RECTANGULAR SEGMENTS WITH TWO THREADED INSERTS
Rectangular segments with two threaded inserts TYPE 3121 are designed for grinding surfaces of ceramic bricks. They are used on surface grinding machines with segmented heads.
ANDRE TYPE 3121 segments with resin bond are manufactured using, among others, black silicon carbide (98C) grain. For specialized applications, ANDRE also offers other combinations of abrasive grains with excellent performance characteristics.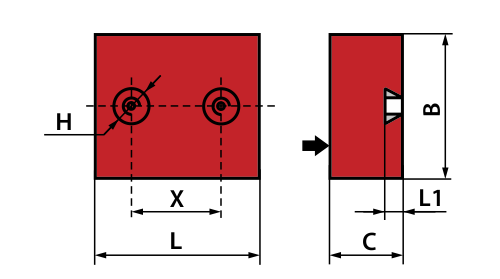 3121 - B x C x L - H / X / L1
Examples of labeling:
3121-80x40x95-M6/50/9-98C20M6B

The presented abrasive tools ANDRE ABRASIVE ARTICLES have been manufactured based on knowledge and long-term experience of cooperation with customers.