TAPERED GRINDING WHEELS WITH THREADED INSERTS
Tapered grinding wheels with threaded inserts, TYPE 3611 are intended, for knife sharpening in tobacco slicers. Inserts are used for clamping on the grinder.
ANDRE TYPE 3611 vitrified bonded grinding wheels are manufactured on the basis of white aluminium oxide (99A) and pink aluminium oxide (CRA). For special applications, ANDRE also offers other combinations of abrasive grains with excellent performance characteristics.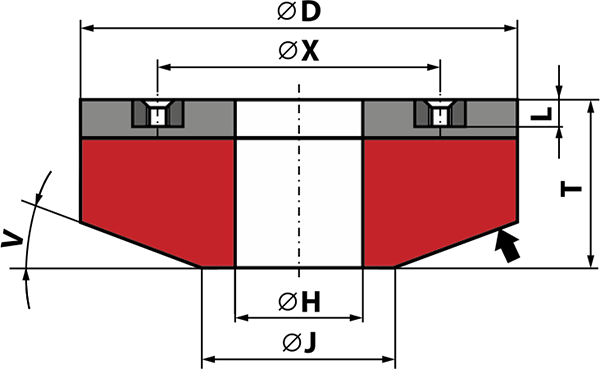 3611 - D × T × H - ... V - nr rys
Examples of labeling:
3611-170x115x90-99A54J7VE01-25-PP/3611/021

Parameters of the offered grinding wheels of the presented type
TYPE 3611
Dimensions [mm]
D
T
H
Threaded insert
Quantity
X
L
J
V
No. pic.
170
115
90
M8
4 - 90°
130
12
100
35°32`
PP/3611/021
200
83
100
M8
4 - 90°
149
20
100
2°
PP/3611/123
*) Other parameters (dimensions, profiles) available according to individual arrangements.
The presented abrasive tools ANDRE ABRASIVE ARTICLES have been manufactured based on knowledge and long-term experience of cooperation with customers.